08 Jul 2022
Data sharing: un reto cultural para empresas y Administración que centra el 2º Tech Forum de Big Data & AI World Madrid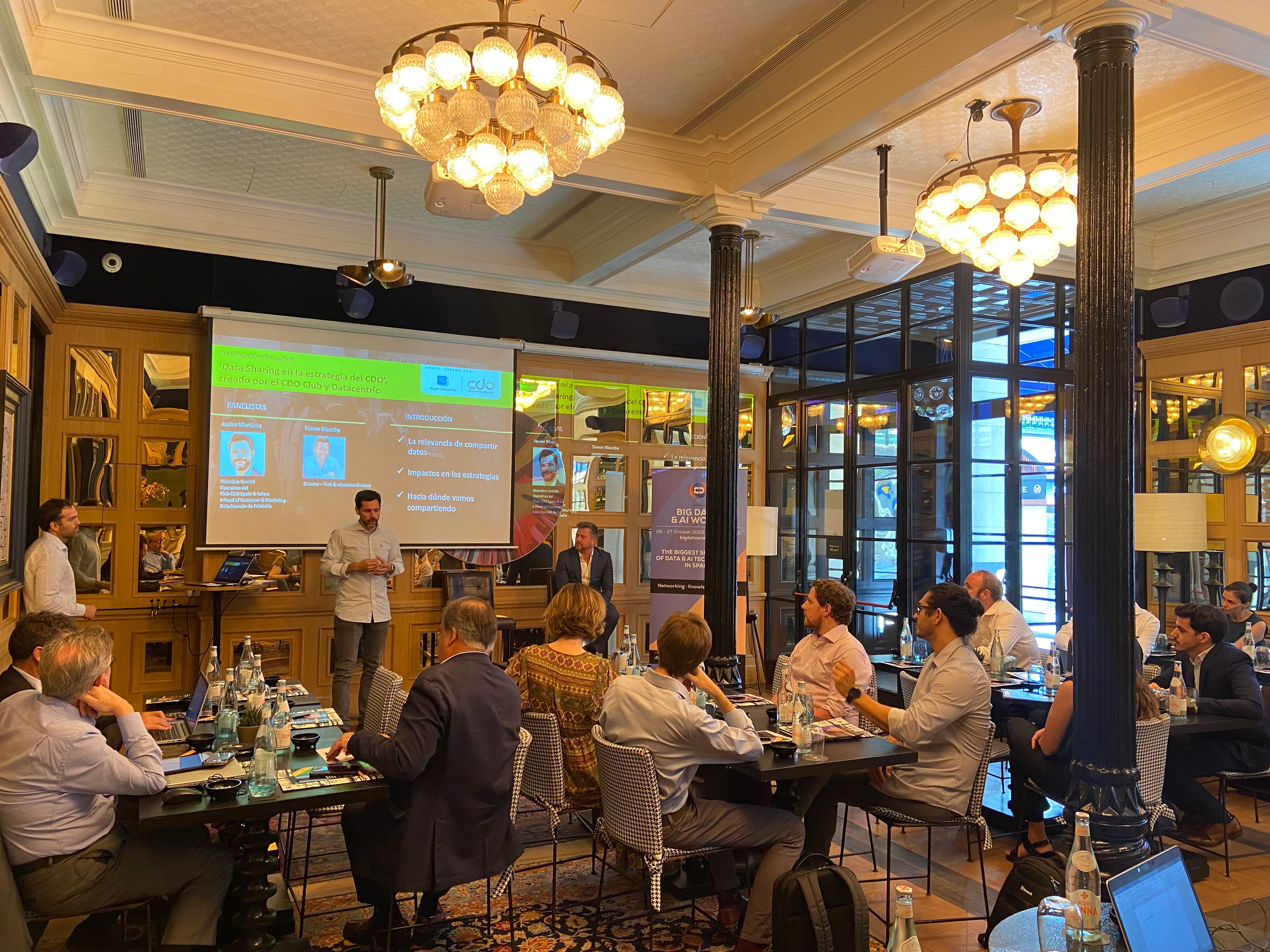 Una treintena de directivos vinculados al sector del big data, el analytics y representantes de la Administración Pública han participado en el segundo Tech Forum de Big Data & AI World Madrid. Un encuentro profesional, antesala de la celebración de la feria en octubre, que ha girado en torno a la relevancia de compartir datos y los impactos en las estrategias de los responsables de datos de las compañías.
Un debate en el que Javier Martínez, miembro del Club CDO y del Comité Operativo del Club CDO Spain & Latam así como Head of Customer & Marketing Data Domain de Falabella, ha presentado el paper 'Data Sharing en la estrategia del CDO',​ creado por el CDO Club y Datacentric​. Un estudio que plantea los retos y oportunidades de la estrategia data sharing sobre lo que Javier Martínez ha señalado que "para fomentar la cultura del dato tenemos que intercambiarlos" y que hasta "las propias Administraciones Públicas están viendo" como un factor determinante. Pero, ¿qué retos se les plantea a los directivos y expertos en data a la hora de integrar datos internos y de fomentar los externos? ¿Qué factores deben tener en cuenta los CDOs en su estrategia Data Sharing? ​
Esa ha sido la pregunta en torno a la que ha girado el debate en el que han participado Alberto Palomo, CDO del Gobierno; Fernando de Pablo, director de la Oficina Digital del Ayuntamiento de Madrid y Fernando Gijón, responsable de Transformación Digital del ente municipal. También han acudido al encuentro Sergio Muñoz, Head of BD Madrid de SDG Group; Juan de la Torre, CMO and Alliance Director de Devoteam; Diego García, Lead Data & IA de Minsait; Raul Romero, director de SAS; JavierPérez, Head of Data & Analytics de Datacentric; Pablo Ríos, Business Manager de Keepler; Noelia Martin, Sales Director de CARTO; Sergio Rodriguez, CTO de PUE; Rafael Ojeda, CIO de Fortage Funds; David Cañones, Lead Data Scientist de DataMarket y Francisco Herranz, COO de Flyde.
Un interesante debate, con una amplia representación de directivos de empresas privadas e instituciones públicas, del que se han extraído conclusiones como la compartida por Pablo Ríos, quien sostenía que en su mesa de debate, el reto cultural ha centrado la conversación. "De los retos de estrategia que plantea el data sharing, el que está en el centro es el ámbito cultural. La compartición de datos tiene un componente cultural bastante amplio. Muchas organizaciones somos víctimas del hábito y el transformar y empezar a compartir conocimiento es un reto en sí mismo", ha sostenido.
Por su parte, Juan de la Torre ha considerado que "hace falta un mínimo de madurez entre los que comparten datos". El CMO and Alliance Director de Devoteam, como portavoz de la mesa de debate en la que se encontraba, ha señalado que "un punto importante en el que estamos todos de acuerdo es que compartir datos beneficia el desarrollo de nuevos servicios tanto para ciudadanos como para empresas. También, que hay una parte importante de integración y ahí la estandarización es una parte destacada, pero, ¿hasta qué punto está ocurriendo?"
Sergio Rodríguez de PUE ha señalado que en su grupo de debate lo que "todos podemos ver como algo positivo es el compartir datos y el compartir datos que fomente el que se tenga algún beneficio" y que no por ello ello "siempre tiene que ser información clave de mi negocio que beneficie a la competencia".
Por último, Javier Pérez de Datacentric ha sostenido que la estandarización es fundamental para poder establecer unas reglas claras que permita el data sharing interno y, sobre todo externo. "Unos estándares que procedan de Europa, del Gobierno…. Una estandarización que podría quitar esas piedras del camino".